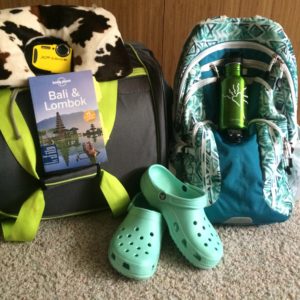 Tomorrow I head off to Bali with Larisa Stow, my friend Delia and 16 other friends-to-meet.  For the last few days, I've been getting "bliss bumps".  Kind of like goose bumps, but WAY better! We will be chanting our way through the chakras, in the temples of Bali.  I am so honored to be taking this journey…a fulfillment of a long-time dream.  Y'know, I don't relish the traveling part, but the YES for this trip overcame my reticence to spend all that time on a plane.  In my quest to transform it all into an evolutionary experience, there have been plenty of opportunities.  The packing, the dilemma of what shoes to take, the gathering of all my homeopathic and herbal remedies, getting all the flight info and other paperwork together.  Since I said yes last November, the process has been working behind the scenes.  Just like I always say: "The workshop begins as soon as you commit".
The preparation has been amazing. Just in the last week, I have publicly posted our first 3 YouTube Videos (see 'em here), scheduled our first workshop in 2 1/2 years, sent out the book proposal for BreakThru to Your Heart's Desire (blogs about that), and launched my new website ElainaGeltner.com! All those things have been in the works for a long time, so when one of my mentors told me that the time is right to complete all those projects that have been laying around, I connected with that energy, and the stars lined up.
So now, I'm off to Bali.  I've had some beautiful downloads about bringing back new activation technology to share with clients, writing about my experiences and chanting with Larisa. This morning I was on the trip's private Facebook group, and discovered one of the group members is a travel writer.  Hmmm….I wonder what the Universe has in mind here?
I promise to blog, or at least post pictures and captions, so stay tuned to my Facebook page, and please see me having the courage to fully surrender to my highest good.
Thanks for all you are and all you do!