Now that the BETA versions of the SoulPath Alchemy™ course and the Web of Light community gathering are complete, it's time to use all the experience and create a solid, supportive foundation to grow my work.  Thanks to my amazing mentor, Minette (
PathToProfitAcademy.com
), I am learning to create plans and digital infrastructure so I am freed up to focus on what I do best. So much has been built behind the scenes in the last 2 years, allowing me to work via internet and phone.
Here we are transmitting from the Studio for the first Web of Light, August, 2018. It was so much fun!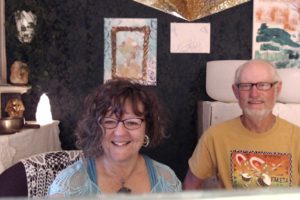 Having now hosted the first SoulPath Alchemy course online, I have SO much information and feedback to use to improve the process.
Now here are the nerdy details cuz I hear some of you are interested!!
My intentions:
All my systems work well together and make a smooth, pleasant path for clients and students as well as for me.
The look is harmonious and evokes energy that is consistent with my work.
It is easy to maintain and update/upgrade. It will grow with me.
There is a lovely balance between human interaction and automation.
I will be migrating to a new calendar/scheduling system as well as starting to use OntraPort, which will take the place of Constant Contact in delivering these newsletters as well as keeping track of many details…a digital assistant, really. Other structural changes will be implemented along the way; my resistance has been overcome by sanity!  As you know, the Guides are working right along with me, as they learn to use technology to transmit light, love and wisdom. (
read that blog here)
. On my part, it really requires letting go…and one day I'll be really good at that!
I am so grateful to be doing work that I am passionate about.  Every day, I get to share the Light, and that's amazing!
Love and Light,