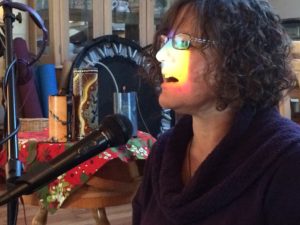 There seems to be a re-surgence of a desire to leave a legacy. You hear a lot these days about the "bucket list". Certainly our era of digital media gives us opportunities to leave behind stories, videos and photos that will last forever, or almost. What would the world be like if we all had the courage to do what we deeply desire? What if we could leave behind the tools that we have found so useful?
A few years ago, I thought I would "retire". I had completed one of my life-long goals: I had founded and overseen QuietStar Center, where we explored our SoulPaths, and I was able to fully express my healing gifts. I had mentored aspiring healers and spiritual practitioners. I got to "play store" with our collection of tools for transformation, I had led years of spiritual gatherings, retreats and workshops. I had taught "HigherSelf" courses and year-long transformational experiences.  Along the way, I had designed websites, embraced many new forms of technology and written lots of blogs. But I knew there was a change coming on. The Center was complete. Both of my parents had passed. I had become a grandmother.
So I began a quest to discover what that might mean for me. I created a writing schedule and for 6 months worked on turning my course "BreakThru to Your Hearts Desire" into a book. I took some online intuitive art classes and painted. I traveled to Bali and embraced chanting and kundalini yoga. I trained to teach Restorative Yoga. All things I'd been wanting to do for years. Then I explored "just being retired"; being a grandma, visiting friends, having lots of freedom to follow the energy and be spontaneous. 
But then, there was this "wake-up call" (read that blog here)
And I realized I was far from done. But I didn't know what was next. I painted some more; I even put myself out there as an artist, participating in our local Open Studios Tour, Art after Dark, and other gallery shows. But it still felt like I was wandering. I tried teaching in-person restorative yoga and sound workshops…but that wasn't it, either. My guides were a bit quiet in the "guidance" area at this point…at least in terms of long-term guidance. But I was feeling a deep transformation, and I felt on track, even though I couldn't really see the future. Then I noticed I was loving taking online art classes. I had been taking online sound/energy webinars with a couple teachers for years. And a lightbulb seemed to go on. I felt a strong urge to work with people who didn't live locally. I had been doing phone sessions for years. I wondered if I could take this thing global through online webinars?  I had tried some of the platforms in the past, but they were just too clunky. Someone told me about Zoom. TA-DA!  I found it just right for me. It worked; it was visual as well as having good sound. I did some tests, and the rest is history. 
I have found a way to leave my legacy, that works for me!  I plan to get the book published, at first as a workbook to accompany online courses; eventually with video recordings to go with it. I have been teaching online regularly for about a year now, and it's perfect for my temperament. I get to have a lot of control over the environment I work in; I get to reach people all over the world. The ideas are unfolding quickly. And the technology is getting better everyday. 
Along the way, I happened upon a lot of other women who were in this same "phase" of life. When I studied developmental psychology years ago, life past 50 just wasn't really addressed.
I've been exploring "conscious retirement", "graceful aging" and the idea of elders and wisdom keepers.  And synchronistically, SoulPath coaching clients who had been regulars for years have started saying, "My kids are leaving the nest" or "I'll be able to retire from my corporate job in a few years", and that left them with a desire to use my spiritual gifts in service. I kept hearing: "I still want to be useful". Funny, how it fit right in with my inquiry!  
I love the tribe of amazing people who are currently finding me. Some of them are elders, but many of them are much younger. Why wait till you're old?!
Want to explore your Legacy? I offer complimentary Discovery Calls. Schedule yours here.
Love and Light,