I love Floating Leaf! Once I arrived here on Oct. 2, Day 18 of this Bali adventure, I began to relax.  I feel so at home here.  I guess the point of traveling is supposed to be getting out of your comfort zone..but there seems to be a lot to be said for finding those places, people, energies that feel "Just Right". My room is called: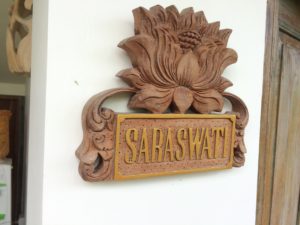 Had to lookup the definition: Saraswati (Sanskrit: सरस्वती, Sarasvatī) is the Hindu goddess of knowledge, music, arts, wisdom and learning. She is a part of the trinity (Tridevi) of Saraswati, Lakshmi and Parvati. All the three forms help the trinity of Brahma, Vishnu and Shiva to create, maintain and regenerate-recycle the Universe respectively.
Saraswati – Wikipedia, the free encyclopedia.
And the synchronicities continue.  All over Bali, offering baskets are put out to bring in good vibes, and I've been thinking that I'd really like to learn how to are them. Guess what is on the schedule for the afternoon…
.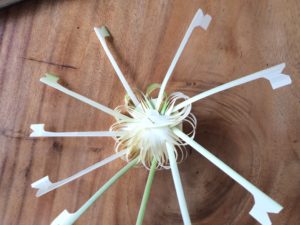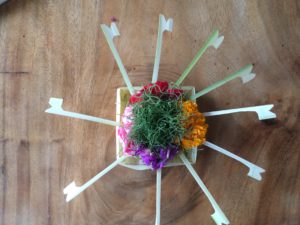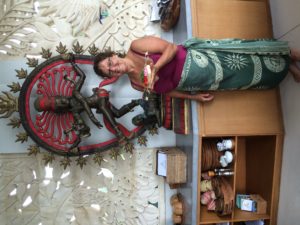 So much fun to create.  Thank you Mikaku and Putu (the Cocreators) for bringing suchahigh vibration to this amazing haven! http://Balifloatingleaf.com
---