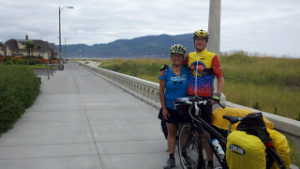 Here we are in beautiful Seaside, Oregon.  Wow! What a trip so far.  After a great time ROASTING in Redding with Katie and Larry, we headed up to Portland, where they were also having record heat.  Time to burn away all the old, evidently.  Didn't I set an intention of transformation?? On the first day of riding, we were dropped off at the top of a BIG hill, so we would have an easy ride into Astoria.  The whole time, I am thinking: if this is an EASY day, I don't want to be around for a hard one.  I kept pedaling, focusing on the scenery and the strength I knew I had with each new hill we climbed.  When we reached Astoria, more hills!  The whole town is bisected by a tall hill/ridge.  Great views from the top…we'll leave it at that!  So our 15 mile easy ride, was 23 miles and a big challenge.
When we arrived, Mimo wasn't expecting us…some communication snafu with her son.  But she welcomed us, and we had a relaxing evening.  This amazing tree was in their back yard.
Finally, I had the courage to ask Bob about our "easy" day.  He assured me this was one of the hardest days we would have.  I decided NOT to go home yet….It was actually fun, especially looking back!
Day 2, off to another easy ride to Seaside, expecting 12 to 15 miles.  Kept my mind on track, and my pedals moving.  My first bridge crossing, the ride a little longer than predicted, but due to synchronicities, a "wrong" turn and the help of a local, we found an amazing route to take. Beautiful, sweeping views of the ocean, no cars.  Bob said, this might be the best route we find on the whole trip.  I countered with "This is a preview of ALL the great routes we will find on this trip!  This or better….Ah, here is the magic I am looking for!
We met up with our host when we first entered Seaside, and he sent us off the highway to reach his house.  Amazing route #2: The Promendade.  See picture at top of this blog entry.  Beautiful place..met two other touring cyclists (on their way to Argentina; 
link to their blog
)and enjoyed the town.  We are staying with a great man who travels and welcomes lots of guests into his home.  I noticed once we arrived I felt a little like I had jet lag.  I just wanted to stop…here we are in a great beach house, a few blocks from the beach. This feels like a vacation!!! I kept trying to tune into my body; no luck. Seemed like the phone line was down.  Kept doing things to rejuvenate and refresh.  Eventually, I realized that my ego wanted to hit the road running the next morning, to prove I could do it, but my body wasn't in tune with that plan. However, it took a headache and a sinus irritation to really get my attention.  Oh, that I would honor my true self earlier!   We considered staying here another day, and I went to sleep. Woke up at 5 am, and remembered that I had been guided to make sure I had a bunch of meditations loaded on my Droid so that I could re-balance if needed.   "The Bliss of Transformation" recorded by the QuietStar Band called to me.  I listened to the whole thing for the first time in awhile….and WOW!  I relaxed, my energies aligned and I felt the healing energy flood my body.  I felt connected to Spirit and to the QuietStar community all at once. Every time I listen to that recording, I find it strange, at first, to hear my own voice.  But then I began to be amazed that we really recorded that!  (CD is available through our online store or at QuietStar if you want to hear it yourself).  I was reminded what powerful energy came through us that day…and I have an inner urging to make it available to more people.
It was such a powerful connection that I wonder if anyone else was "tuned in" around that time: around 6 am PDT this morning (Wed, 9/14)
I went back to sleep and had a really amazing dream (saving that for another time!), woke up clear that I needed to stay put today, to blog, to write, to drink healing potions and prepare for tomorrow's adventure.
I will load more pictures on the QuietStar page in Facebook, where I will be uploading pics throughout the trip.
We appreciate your wishes for the wind to be at our backs, for me to remember that my body is strong, and for our way to be clear as we are "in the right place at the right time with the right stuff meeting the right people".  Love to all of you!  Elaina and Bob