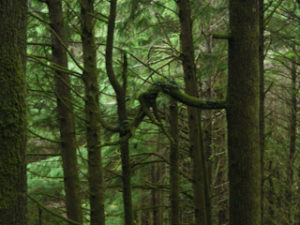 Thursday evening notes:
While re-aligning myself yesterday, I continued to call in the help that I needed.   Step by step, I felt clearer and clearer.  Thanks, Robin (Klickstein) for your assistance in setting clear energetic boundaries.  At one point, I went into a visualization that Anita (Henry) had given me to make sure my mind was creating what I really wanted.  I realized that the only image I had of the next leg of our journey was me dragging up the two BIG hills I had seen on the map…oops! (I tried to photograph the side view of the hills from the guidebook, but no luck, so you'll have to wait for our post-trip slide show for that visual!) I know that what you visualize is what you get, so I kept asking for a new image, and waiting and waiting for it to show up.
In the evening, my wonderful partner was doing those miraculous Bowen moves on my neck and upper back, and as my body/energy cleared, up popped this great image from the Triplets of Belleville.  It's an animated film about bicycling….I saw this character just pedalling like mad up this hill, wheels spinning, looking very determined.  I knew immediately this was my totem for those hills. I kept replacing the old image with the new one in my thoughts, until the Triplets of Belleville were the dominant image.
This morning, I woke up excited and ready to go. As we pedaled away from Neil's house, there was a heavy mist in the air. But I was ready, the Triplets in my head! For protection, we were accompanied by Archangel Michael and surrounded by a giant golden bubble, both installed by Mary (Hiestand) at QuietStar before we left.
We pedaled into Cannon Beach, a beautiful town, and stopped at Sweet Basil's, an organic restaurant we heard about several times.  As it was only 10 am, we knew we would only be dreaming of the food.  As we are perusing the menu, it's starting to rain harder.  Under an overhang, we don our rain gear, and pedal on.  My big hills, the first with an uphill tunnel, loomed ahead.
The scenery was beautiful, and we stopped a couple times to drink water, admire the amazing RAIN forest, and then get back on the bikes. Bob and I kept calling in the Triplets. Their feet spinning pushed mine along (I'm sure of it, their presence was so real!), and I actually pedalled all the way up BOTH mountains!
One of the challenges today was negotiating places with narrow bike lanes, including bridges. At one point there was construction and flaggers controlling traffic, and we got to ride over a bridge all by ourselves, with the traffic stopped in both directions.  We are grateful for all the help. We continue to find ourselves in the right place, at the right time…(I know, you know that one!).
Soaked through our raingear, we stopped at a crossroads, and got more great route and dining suggestions from a local guy.  Over a GREAT Mexican lunch, in a nice warm, dry place, we decided to ponder a motel for tonight, as it was still raining.  We got another great tip, and found a simple little place where we created Hawaii by turning up the heat to dry all the clothes hanging around our room.
We are in a sweet little town, Manzanita, finding like-minded souls and stopping to smell the flowers!
Dahlia in Manzanita, Oregon
Bob fills the Bragg's (Aminos) at Mother Nature's Store
I visited Longevity, a yoga and healing studio, and found a couple great new products for the QuietStar store. Then Bob and I went to the Natural Food store, for provisions, where we connected with more people.
For awhile now, I've been talking about connecting the Web of Light around the world.  I notice that's what's happening, even though it doesn't look like I imagined it would….And Yvonne (Roza), thanks for all that you have taught me about attuning energy while travelling! It's so much fun to have all these tools!Thanks for all the prayers and thoughts…we feel 'em!