SoulPath Alchemy™ Glyphs can be created for individuals, projects, groups.  They are used to calibrate your energy or to create, cement or release a particular energetic frequency. See Events! page to find out where Elaina will be creating Personal Glyphs next.
Examples of Personal Glyphs: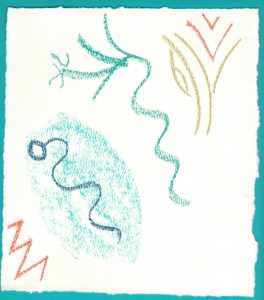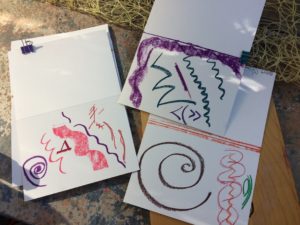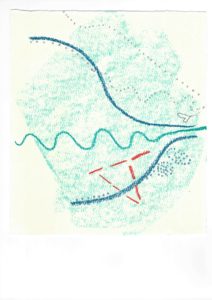 How the Glyphs came to me:
Symbols have a powerful energy that can shift, create and release energy.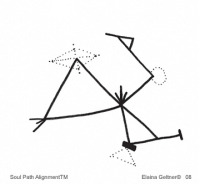 In 2003, I was doodling, and suddenly received a strong message that each "doodle" was in fact for someone, and received the names.  I began to share them with those people, who had visceral reactions to the symbols.  This morphed into the angelic realm asking if I would go to a Holistic Healing Fair and create them for people "on demand".  I imagined this would be difficult, so they invited me to practice on friends.  Together, we practiced until we developed the materials and techniques that would work in that setting. As is often the case in my world, I had most of the stuff already.  A year before, I had purchased a big pack of hard pastels, so I could have the color that was "just right" when I went to a pastels class.  That class turned out to be a bit beyond my drawing abilities, so I stayed just long enough to learn how to use the pastels, and then stayed home to play around with them. Now "they" are using those pastels, we found a little can of fixative and developed a package so people could get them home safely.  Then the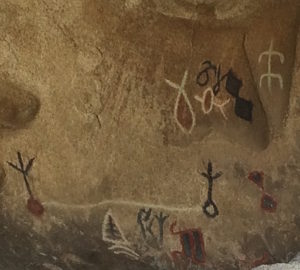 instructions came through, and off we went to create symbols at the Holistic Living Fair.  Someone said they looked like the heiroglyphs in Carrizzo Plains.  I have yet to see those, but I found these in Joshua Tree National Park, and I love them.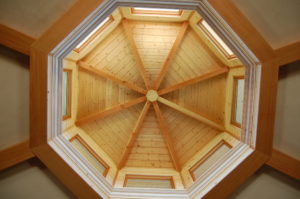 Everywhere I go, I am mesmerized by geometric shapes, heiroglyphs, symbols. They have so much power!
The "symbol" designation never felt quite right, so I petitioned Spirit for a better name. In 2015,  I received a suggestion to research "Glyphs". Ahhh. Just right! These days, I create SoulPath Glyphs™ for individuals, projects, groups and organizations. The logo for QuietStar was one of the original doodles. I had hired 2 different designers and spend over 15 years trying to find the logo…and then one day, there it was! I recognized it as the logo I had been waiting for. All I had to do was adjust the orientation.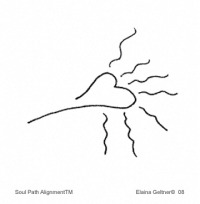 The original set of black and white Glyphs (symbols) will one day be born as a set of SoulPath Alchemy™ cards.  I began painting in 2013; the glyphs become much more complex.  I continue to love the Glyphs for the vibrational alignment they create, whether I happen upon them or they come through me!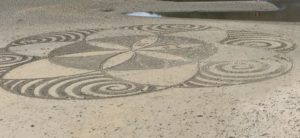 Human-made Glyph in the sand:
Amazing design at Avila Beach in Spring, 2016. I was out for a walk and just "stumbled" upon this. Serendipity, I would say!