Reception: Friday, April 6, 2018, 6-9 pm. Featured Artist for April Art After Dark.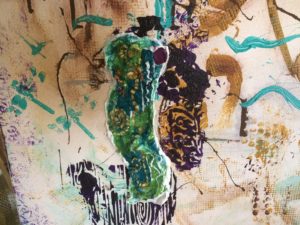 Elaina's first Solo Exhibit at Art After Dark In San Luis Obispo, showcasing her intuitive, transformational glyphs (Mixed Media Art).  Free admission and parking. Original paintings, prints and one-of-a kind cards will be available for purchase. Location: East WellBeing and Tea, 1238 Monterey Street (between Santa Rosa and Johnson).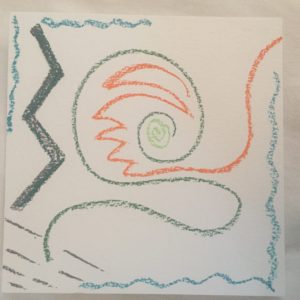 Elaina will create personal SoulPath Alchemy™ Glyphs for attendees at the reception.
Sound Bath Meditations at 7pm and 8pm using sound and the paintings as energy portals with Bob Nanninga on didgeridoo.
Try free samples of East WellBeing's delicious, signature teas! Food from Bliss Cafe will be available to purchase. Free admission and parking.
Thanks, Taryn Davis and Jill Stollmeyer for co-creating with us. We look forward to seeing you!  Please let us know you're coming! RSVP here.

Open Studios Art Tour, May 5 & 6, 2018. More about the Art
1248 Monterey St, in the MoJo District, San Luis Obispo, California
Two days in the Garden with Art Demos, Art for Sale, Friends.
SoulPath Alchemy™ Online Course, starts June 20, 2018
Journey with like-hearted souls in a safe, step-by-step program to expand your Inner Guidance. Learn to access personal guidance for your SoulPath.  Discover your unique SoulPath Vibration.  Create a spiritual program to support your ongoing growth and evolution.  Create a foundation to safely explore interdimensional contact with your HigherSelf and SpiritGuides.
Join SoulPath Alchemy™ founder Elaina Geltner for 7 class meetings via Zoom. Elaina has been teaching this course for over 25 years.  It was formerly known as HigherSelf~SpiritGuides 1.
Email Elaina for application and information.
SoulPath Alchemy workshops: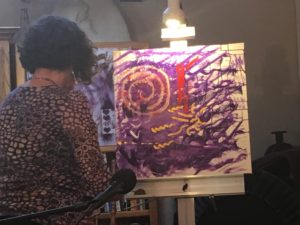 SoulPath Alchemy™ Workshop: Play with Paint, Paper and Found Objects, as we create the life of our dreams!  We will open our hearts to the Light as we joyfully transmute what is complete and call in what we desire. Let go of your inhibitions, tune into your intuition. Play to your heart's content.  Art supplies galore.
All levels of experience with art and transformation are welcome. Wear "paintable" clothes cuz we might get kind of wild.  All materials provided…bring art/collage materials if you like.   $85. Next date TBA. 
Past and Re-curring Offerings 
Annual Halloween Workshop: Finding the Light: A Clinic for the stuck ones. 3 hour workshop, scheduled near the end of October.   For many years, I have offered this clinic to assist the lost souls to return to the Light.  At the time of Halloween, the veils thin, making access to this energy easier. If you feel compassion for those who are "stuck", join us to learn some safe techniques to assist them in moving to the Light. Includes Healing Sound with crystal bowls, didgeridoo and voice. No experience necessary; costumes make the whole thing more fun, if you are feeling it!