Open Studios Art Tour, May 5 & 6, 2018. More about the Art
1248 Monterey St, in the MoJo District, San Luis Obispo, California
SoulPath Alchemy workshops: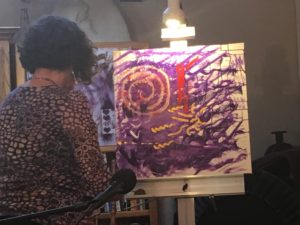 SoulPath Alchemy™ Workshop: Play with Paint, Paper and Found Objects, as we create the life of our dreams!  We will open our hearts to the Light as we joyfully transmute what is complete and call in what we desire. Let go of your inhibitions, tune into your intuition. Play to your heart's content.  Art supplies galore.
Saturday, January 13, 2018, 1-4pm. All levels of experience with art and transformation are welcome. Wear "paintable" clothes cuz we might get kind of wild.  All materials provided…bring art/collage materials if you like.   $85.
Past and Re-curring Offerings 
Annual Halloween Workshop: Finding the Light: A Clinic for the stuck ones. 3 hour workshop, scheduled near the end of October.   For many years, I have offered this clinic to assist the lost souls to return to the Light.  At the time of Halloween, the veils thin, making access to this energy easier. If you feel compassion for those who are "stuck", join us to learn some safe techniques to assist them in moving to the Light. Includes Healing Sound with crystal bowls, didgeridoo and voice. No experience necessary; costumes make the whole thing more fun, if you are feeling it!